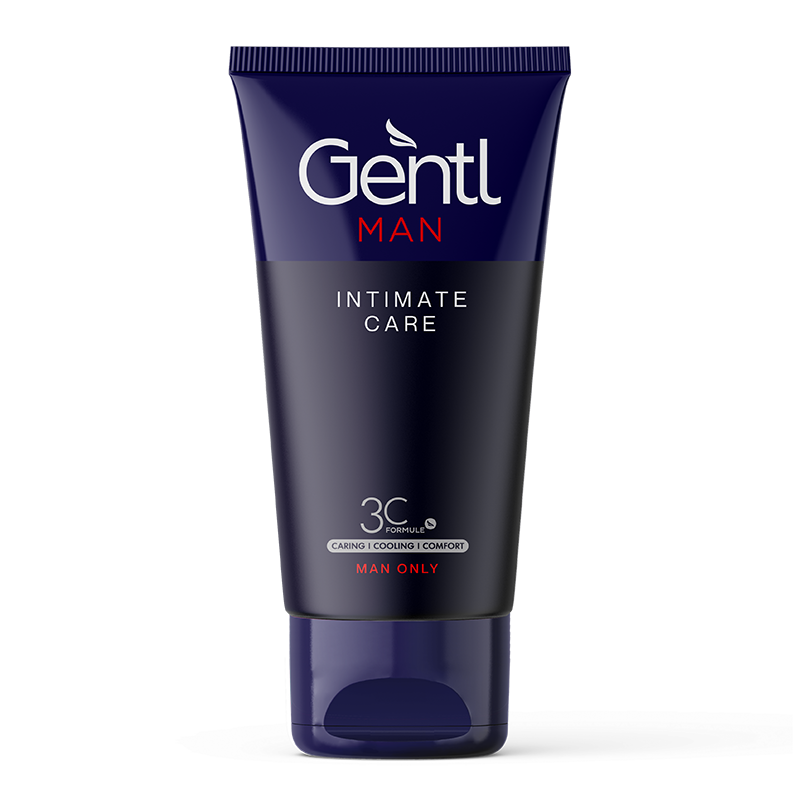 Gentl man Intimate aftershave
Aftershave cream for the pubic zone
World wide the first aftershave cream for men. Gentl man Intimate Care with its unique 3C formula nurtures and heals the skin of the intimate zone.
Research conducted by Wilkinson Sword shows that in 2018 more than 62% of all men worldwide shave or trim their pubic area. More than half of them experience discomfort such as red bumps and itching. Until now, there is no single aftershave care worldwide that focuses specifically on the male pubic area. It is good to know that the skin of the scrotum is just as thin and fragile as your eyelids. In any case, the pubic area has to endure quite a bit due to tight clothing, underwear, sports and sweltering heat. Good care is therefore not an unnecessary luxury.


Gentl man softens, nurtures, cools and repairs the skin after hair removal. The cream absorbs quickly and provides immediate relief from itching, bumps and irritation. It gives a fresh and well-groomed feeling all day long. Ideal after shaving. But also as a daily care.

Because it restores the skin, keeps it supple and soft against friction, athletes benefit greatly from it. And not unimportant; the taste and smell are pleasant and therefore do not constitute sexual restrictions

Gentl man Intimate care only contains high-quality ingredients that guarantee a good effect.

Symcalmin and Aloe Vera purify and help repair the skin. Menthyl lactate takes the heat and redness out of the skin and gives a dry and fresh feeling all day long. Ingredients such as Argan oil, shea butter and almond oil nourish and soften the skin. Glycerin keeps the skin well hydrated. Capislow inhibits hair growth with regular use.

Apply as a daily care or directly after depilation. Massage in a thin layer. Ideal after shaving, trimming, depilation cream, waxing or other ways of depilation.